We have 20 amazing shops across Gloucestershire, ranging from Tewkesbury and Bishops Cleeve to the North of the county, and Berkeley, Dursley and Wotton-Under-Edge to the South.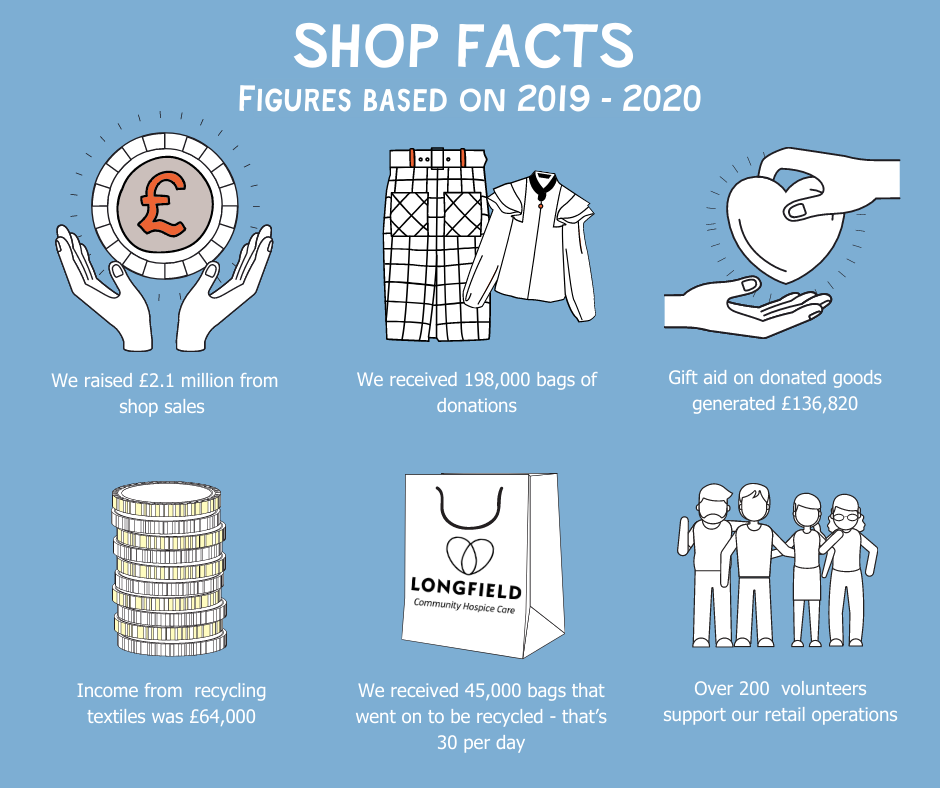 What You'll Find
You would be amazed at some of the items you can find! We pride ourselves on having the best items for sale, including quality pre-loved women's, men's and children's clothing, children's toys, bric-a-brac, jewellery, handbags, shoes, books, games and puzzles, linen, DVDs, CDs, vinyl and electrical items.
Our Stroud, Up Hatherley and Bishops Cleeve shops also sell furniture – this could be coffee tables, chests of drawers and chairs, through to wardrobes, 3-piece suites and dining tables.
You can also find a range of specially-selected items over on our eBay store – shop from the comfort of your own home.
Visit our donations page to find out how you can donate your pre-loved items.
How We Operate
All of our charity shops are run by a professional team of staff and volunteers. We also have a warehouse that is based in Nailsworth, just down the hill from Longfield Hospice. It's the heart of our retail operation; it holds excess stock, and is also where our vans pick up stock to deliver to our shops.
Returns
We offer a returns policy of 14 days, if the item is in its original condition with the ticket attached and with a valid receipt. All electrical items have been PAT tested and are given a 28 day guarantee.
Covid-19 Precautions in our Shops
Some of the measures we have put in place to try to minimise the risks for our customers, staff and volunteers are as follows:
We have adopted a maximum number of people in the shop at one time, so we can adhere to social distancing measures.
Our shops are thoroughly and regularly cleaned.
There will be a plastic shield guard on the till point.
We have put 2m guidance tape on the floor and at pinch points to ensure people stay 2m apart.
Our staff are using disposable gloves when sorting donations and are regularly washing their hands. They follow the latest Government Covid- 19 guidance regarding face coverings.
The items on sale have been quarantined as a precautionary measure for 48 hours before they are steam cleaned and then put out onto the shop floor.
Our changing rooms are closed at the moment.
We are asking people to only visit us if they feel well, to shop alone and to pay by card or contactless where at all possible.
Find your Closest Shop
We try and raise as much income as we can for the Hospice through our retail income, as the amount we make each year directly impacts the care that we can provide.